So we all remember hearing about adding Minstrels to your popcorn in the cinema and initially thinking "Uggghhhh!" until we realised that sweet and salty together is actually DELISH!
Then along came the craze of breaking up your bar of chocolate and chucking it in with your packet of crisps.
Tayto took that one step further and released a cheese and onion chocolate bar. It was met with mixed reviews.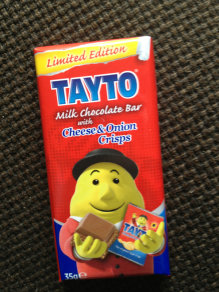 Now cheese and onion ice-cream has been created!
XXI Ice-Cream Parlour in Dundalk who hand roll ice-cream combinations have added Tayto cheese & onion crisps to vanilla ice-cream, mashed it all up and it looks delicious!
HOLD THE CONE!
This week, Half Cut ice-cream - a Sligo based brand started selling gin and tonic, prosecco and mojito flavoured ice creams from Lidl stores nationwide.
"Finally after almost 2 years of hard work our New Retail Brand , HALF CUT , is hitting the shelves in LIDL next week . A Big Thank you to Lidl for having faith in our ice cream and we look forward to hopefully supplying their 10,000 stores throughout Europe."
I SCREAM, YOU SCREAM, WE ALL SCREAM FOR ICE-CREAM!